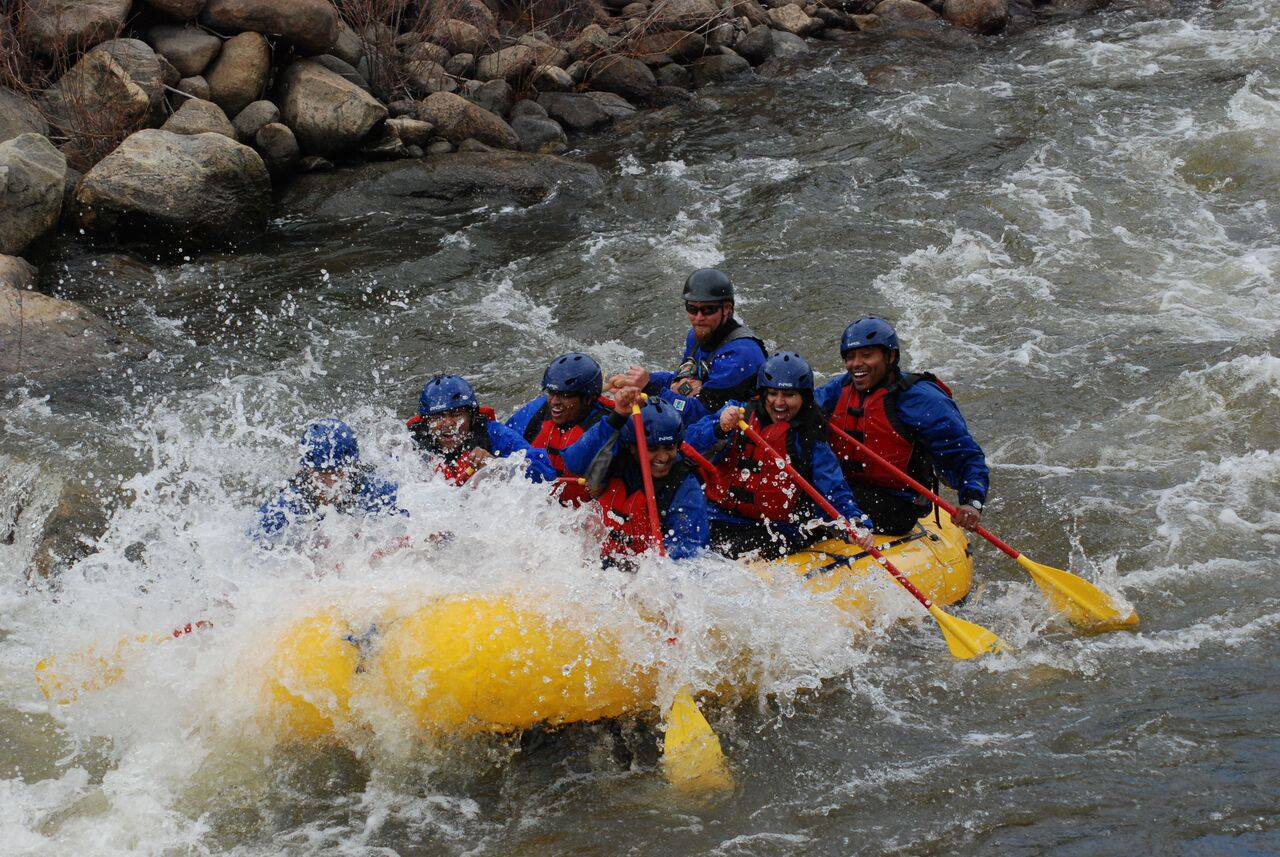 Image: Aspen Whitewater Rafting
For the adventuresome traveler, a vacation in Aspen isn't complete without including a whitewater rafting trip. Whether you're an advanced paddler, or you've never set foot in a raft, a whitewater adventure is a must. Plus, local guide companies offer trips for all experience levels (beginner, intermediate, and advanced), so it's easy to pick a raft trip that's right for you and your group.
MELLOW TRIPS, GREAT FOR BEGINNERS
Middle and Lower Roaring Fork River —
If you're new to whitewater rafting, or if you prefer a more low-key trip where you can take in the scenery, the gentler waters of the middle and lower Roaring Fork River are perfect. Also, these lower stretches of "the Fork", near Carbondale and Glenwood Springs, are family-friendly, so plan a trip that includes everyone!
Colorado River —
The Colorado River raft trip that travels through the Class III Shoshone rapids offers a nice balance of fast-moving and gentle water. This trip is available to beginners, since most of the Colorado River is mellow as it flows through Glenwood Canyon on its way to Glenwood Springs.
THRILLING TRIPS, GREAT FOR INTERMEDIATE & ADVANCED PADDLERS
Upper Roaring Fork —
Upper Roaring Fork raft trips are about 10 miles long and "put-in" only about 10 minutes from the Aspen Square. This section of the Roaring Fork River contains Class IV rapids, including local favorite Slaughterhouse Falls. If you've ever walked or biked on the Rio Grande Trail past Cemetery Lane during spring runoff, you've probably heard the roar of Slaughterhouse Falls!
Arkansas River —
Located east of Aspen, on the Twin Lakes side of Independence Pass, the Arkansas River delivers near nonstop whitewater. Popular Arkansas River raft trips include Browns Canyon and Numbers.
Wear the Right Gear
Clothing and Shoes:
Sandals with straps
Quick-drying t-shirt and shorts
Bathing suit underneath quick-drying clothing
Sunglasses with a strap
Hat with a strap
Sunscreen
Bring These on Your Adventure:
Sunscreen
Water
Snacks
Waterproof camera
Dry clothes to change into after the trip
Towel
Rafting Guide Companies provide:
Life jackets
Helmets
Splash jackets
Neoprene booties
Wetsuits
Don't Miss Out on Whitewater Rafting in Aspen
The helpful concierge team at the Aspen Square Condominium Hotel knows all about whitewater rafting, and would be delighted to discuss trip options with our guests. They can help you decide which rafting adventure is right for you or your group, and can make arrangements for you prior to your arrival at Aspen Square.
Contact the concierge by phone at 1-970-925-1000 EXT. 3515, or send the concierge an email at concierge@aspensquarehotel.com. Non-guests can contact the Aspen Chamber Resort Association by calling (970) 925-1940 for more information on whitewater rafting.